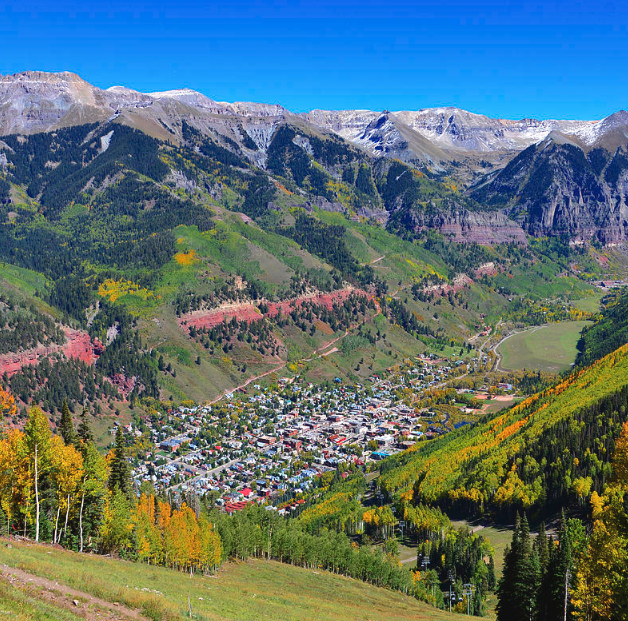 Marty visits Telluride
by Dan McGowan
The Adirondack Mountains are worn and subtle compared to the Rocky Mountains, so too are the northern Colorado ranges – with all the popular ski resorts – compared to the rugged southern ranges in Colorado. I had my college field camp in those southern ranges and was enamored with the natural beauty. I was very excited that my brother Marty was going to visit me in Colorado (around 1986) and was going to surprise him by taking him camping in those very mountains, close to Telluride, CO. I had a new 4 wheel drive Nissan Truck and was anxious to take it offroad for some singletrack mountain biking. Marty the hard core runner was in great shape and had no objections to trying out mountain biking. There were a couple of things I neglected to disclose at the start of our trip. First off, although the truck was new, I declined to get it with air conditioning. It was optional and my path to affording the truck was to get only one option: a sunroof. The second thing was that Telluride was an 6 plus hour drive. About four hours in we made it over a mountain range and approached the western slope of the state. Marty says to me, "When we first started your truck's air conditioning was great, but it's not working so good now". He then says: "Do you know where you are going? – I think we should be there by now". I had to come clean now: he was deflated that not only was it getting hot in a truck with no a/c, but we still had a couple of hours to go.
When we arrived at our campsite near Ophir pass, I unpacked the bikes, set up camp and cooked dinner. Marty was wiped out and crashed in the tent. After enjoying a fire for a few hours, I let it go out and watched the sky darken and the stars lighten. I saw a canopy of stars with Cassiopeia's Chair front and center with the Milky Way's band of stars on either side. I thought to myself, I bet Marty has never seen stars like this. So I opened the tent, woke him up and insisted he look at the sky. He grumpily complied and then immediately went back to his cocoon position inside the tent. I asked what he thought of the stars and he said he did not see any as it was "cloudy" outside.
The next day I looked up a good singletrack trail on a forest service map. I recall there not being a trailhead marked on the map at this spot – but figured this is not a problem we would park the truck off the road somewhere. We packed lunch, loaded up the bikes and headed out. I remember being excited about riding the bikes and not so concerned that I had to park off the highway, a ways up from where the bike trail started. These were the early days of mountain biking. Compared to modern bikes, these bikes were heavy. But we did not know any better. They had gears and big tires and brakes. No problem going over bumps and rocks and logs. After a couple hours going up a valley we had lunch and decided to head back. We felt we earned a comfy easy ride back. What we found though was that the way down involved tons of braking and lots to concentrate on to stay on the trail. By the time we intersected the highway we relished the smooth ride on the highway pavement back to the truck. Only I led us in the wrong direction. We took in the sights and the beautiful late summer afternoon for some time until we both stopped and thought we surely should have reached the truck. By now Marty is thinking he needs a beer. There looked to be buildings way off in the distance so we continued riding the wrong way. Sure enough, we could seen now that the Blue Jay Cafe lay on the horizon. No stopping Marty at this point.
We parked our bikes and went in, hot and dusty. Hardly anyone there, just a few scattered folks and some empty tables. We sat down and quickly ordered some beers. Conversation echoed in the small place and it was hard not to overhear. Marty's ears perked up when he heard the words Staten Island. We excused ourselves and poked our heads in. Could not help but overhear you mentioning Staten Island… We spent the better part of the night there talking it up with this guy named Rhodes. We had a lot in common. Turns out when I told him I went to Curtis High School he immediately knew some of the folks I went to school with like the Hargetts – Kenny, Carl and Karla. Asked he what he was doing in Telluride and he said he was the hot dog man in town – the only hot dog man in town. Also the only black guy in town. I was now aware of the place starting to get a little busier, late afternoon regulars trickling in. The sounds of the place were still dominated by our table with robust laughter regularly blurting out. A few stares coming our way from throughout the place. Who are these people? And why are they here? Well the man we met was quite the storyteller. I just remember his last name – Rhodes.
Sidebar: 36 years later – that's right I said 36 – I told this story to Dan Raleigh and he knew him and told me his first name but (insert senior moment joke here) I do not remember it.
Mr. Rhodes went on to relate how one day several years ago – I am thinking late 1970s – he was chatting with a customer at the hot dog stand. The customer mentions he is in Telluride to film a beer commercial. He then states that one of the parts calls for a black man. He wanted to know if Rhodsie knew any local black actors. Recall this is long before internet and social media. Rhodsie answers that he knows no actors, and that he is pretty certain he is the only black man in town. A panicked look suddenly engulfed the customer's face. And a long unnatural silence is broken with a description that this commercial needs to be wrapped up in a couple of days: Would Rhodes be interested in a paying job to play the role? Of course he says yes. However after the filming he feels a little taken advantage of when he learns the union dues for the screen actors guild takes a large chunk out of what they gave him. Oh well live and learn, he thought, and tried to forget the whole thing. Rhodes was surprised months later when he got a check for $1500 for residuals associated with the airing of the commercial. Next month comes a check for $2000. And then several months thereafter checks for $5000. Not bad for the Telluride Hot Dog Man.

By now the Blue Jay Cafe was really rockin – but with all the noise I still felt people were looking at our table. My suspicions were confirmed when this guy comes over to me – why me and not the elder statesman Marty? – and introduces himself as the Mayor of Telluride and that the Chief of police is also here. He says he is watching us and if we did not leave now he will have us nailed with a DUI when we did leave. For me two things came to mind: why would the Mayor and his chronies be doing their drinking here far moved from downtown Telluride? Secondly, we rode in here on bikes, which were locked up far from view. In this light, I just looked at him and laughed. He looked confused and left our table. Just before closing, I sneaked out, hopped on my bike and returned to where our truck was. Amazing what a sobering effect a 5 mile uphill ride can be. I came back , picked up Marty and his bike, and returned to our campground where we had a pleasant evening. And a very memorable Telluride vacation.